One of Springfield's oldest buildings, 77 Maple Street was in a state of collapse when the Springfield Preservation Trust stepped up to save this historic building. Originally built as the Springfield Female Seminary in 1832, the building seemed certain to become another victim of demolition by neglect. Although protected within the Lower Maple Local Historic District, remodels by the former owners had led one whole wall to collapse.
Since purchasing the property, SPT has successfully secured the building using a variety of funding sources. Now that the building is no longer in danger of collapse the restoration project has moved on to exterior work.
Springfield Female Seminary – History
The three-story brick Springfield Female Seminary was built in 1832 by Simon Sanborn, Springfield's master builder. The Seminary became coed in 1835 and moved to a different location in 1843. The drawing at right depicts the building as it was when it was first built, with three stories.
After being sold to Margaret Emery in 1843, the school was converted to a residence. After her death in 1860, it was sold to Frederick Harris, a cashier and then president of the Third National Bank. He lived here until 1911. After that, the property went through numerous owners, eventually being converted to professional offices. In the black and white image at left, one can see that the building had a two-story front porch, which is now gone.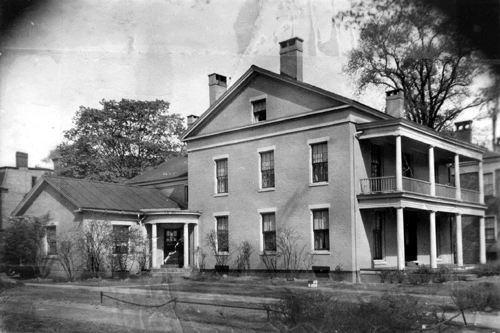 In recent years this historic resource has been in a state of decay, every day getting closer to being lost. The previous owner had started a renovation project on the building. The interior space was gutted down to stud walls but it appears work stopped soon after this was done. The property had been sitting in this condition for several years.
The property is located in the Lower Maple Historic District and is on the National Register of Historic Places. The SPT Board of Directors decided to step in and purchase the building so that it could be saved. SPT hired architect William J. Devlin, AIA to design and plan for the rehabilitation work.
One of only 25 known buildings still standing in Springfield that pre-date 1835, 77 Maple Street is the city's oldest extant school building and the place where Sarah Porter (of Miss Porter's School) started her teaching career. For these reasons, there are no questions why this structure should be saved for generations to come, but there is also another very important reason to save historic structures like these, neighborhood revitalization and civic pride. Click Here for a 77 Maple Street gallery.