Neglect takes a long time but can be overcome when people of vision, dedication, and foresight step up and meet the challenge. Some of Springfield's finest neighborhoods and buildings, after long suffering from neglect, have risen to be restored and valued and have become the pride of the city.
52 Westminster Street (1882)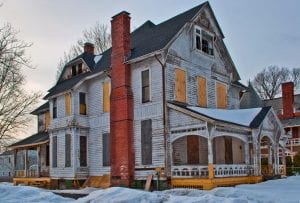 The grand Stick/Queen Anne style house was once home to Massachusetts Mutual Life Insurance President John Hall. It became a house church, was then vacant and deteriorated for many years. The house was almost demolished but the City foreclosed for back taxes and offered the property with a significant dollar incentive for renovation.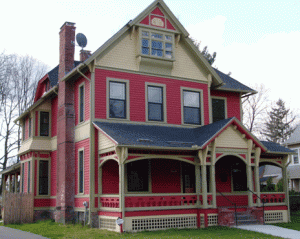 45-47 Mattoon Street (1871)
The Second French Empire style row houses had been neglected and then suffered great fire damage. Their owner wanted to demolish them for parking, but their Historic District status stymied that plan. The Redevelopment Authority purchased them and sold them to a developer who renovated them in the late 1970s.
70-76 Temple Street (1874)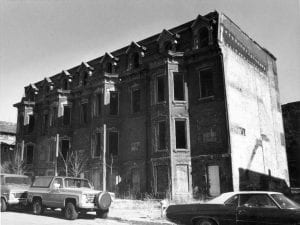 The row of Second French Empire style houses designed by George Potter sat vacantly and deteriorated for many years. The City planned to demolish them but instead foreclosed for back taxes and then sold them. The new owner renovated them and even reconstructed the missing entry stairs.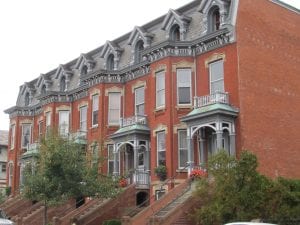 56 Temple Street (c. 1885) & 62-64 Temple Street (1879)
The Stick style house, previously a group home, burned and then sat empty. The two Victorian Gothic Revival style semi-attached houses, renovated in the 1970s, were severely deteriorated and were occupied by squatters. A new owner renovated the three houses, including the removal of asbestos siding from 56 and non-original porches from 62-64.
One of the finest early Italianate style houses in the city, this house had been converted to offices decades ago as State Street changed from residential to commercial. Recently, it sat vacantly and deteriorated until being renovated as offices by a new owner.
270 Maple Street (1879, enlarged 1880 & 1900)
The elaborate Colonial Revival style mansion had been gifted to The MacDuffie School, which had no use for it, and hired a contractor to demolish it. Fortunately, an interested buyer intervened purchased the house, and renovated it.
265 State Street (c. 1870, enlarged 1884)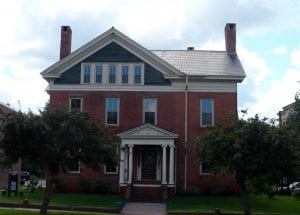 One of the few grand houses remaining along State Street, this Victorian had long been used as offices and then became vacant and deteriorated. The City foreclosed for back taxes and sold the property to a new owner who renovated both the house and its once-dilapidated carriage house.
The elaborate Stick style house suffered a catastrophic fire and was in danger of being demolished. The City offered financial incentives for renovation, and a new owner rehabilitated it, including removing old asphalt siding which hid much of the exterior details.
Junior Officers Quarters (1870) Springfield Armory
This Second Empire style double house was built to house two officers of the Springfield Armory and their families. The building had been in terrible disrepair until the Commonwealth of Massachusetts funded exterior structural stabilization by the National Park Service. Work included re-pointing the brickwork, scraping and repainting trim, stabilizing five chimneys, rebuilding the foundation, fixing roof leaks, and rebuilding the elaborate front porch.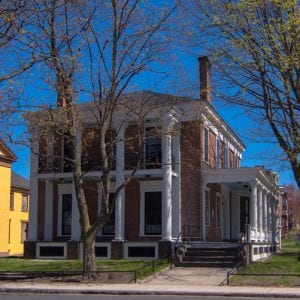 The Solymon Merrick House is one of the most architecturally important houses in the city. It was vacant and deteriorated with broken windows, a leaking roof, and collapsing porches. Its exterior has been restored.