On the ninth Sunday of the new year, SPT holds its Annual Meeting at an interesting historic place. Past meetings have been held at restored homes, repurposed industrial space, churches, and a refurbished mid-century modern office building. At the Annual Meeting, SPT membership elects the board of directors for the upcoming year and a presentation is made about the activities of the Trust over the previous year. The list of Springfield's Most Endangered Historic Properties is also announced. The meeting also features either a speaker or tour of the historic place where the tour is being held.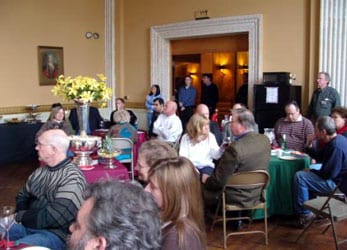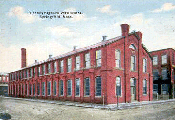 Atwater Enterprises, 43 Warwick Street
Sunday, March 3, 2013, at 1:00 PM
Talk from Preservation Massachusetts President James W. Igoe
The meeting was held at 43 Warwick Street in the "Wireworks Complex" in Atwater Enterprises, LLC space. The historic industrial space is one of three buildings comprising the complex. It was originally built in the late 1800s as a bicycle factory which later went out of use with the emergence of motorcycles. It was then converted to a wire coating facility and subsequently had many industrial uses. The current building includes approximately 12,000 square feet and has recently been rehabbed to serve as office space for Behavioral Health Network (BHN), Atwater Enterprises LLC, commercial photography studios, and Springfield Police Assessment Center.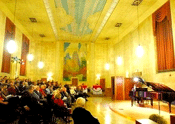 Community Music School, 127 State Street
Sunday, February 26, 2012, at 2:00 PM
Talk by Republican editor & historian Wayne Phaneuf
The meeting was held at the Community Music School of Springfield. Historically the Springfield Safe Deposit & Trust Company built-in 1933 in the Art Deco Style, Fleet Bank donated the building to the Community Music School in 1996 after Fleet merged with Shawmut in 1995 and closed the branch. The building's main banking room has been transformed into a 180 seat venue and the former office side of the building is now classroom and recital space.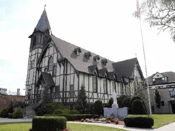 Immaculate Conception Church
25 Parker Street, Indian Orchard
Sunday, February 27th, 2 PM
Tour of Springfield's newest Local Historic District, the Immaculate Conception Parish.
Originally part of plans to consolidate parishes, the Roman Catholic Diocese of Springfield decided to close Immaculate Conception. The parish represents the heritage of Polish Catholics in the Indian Orchard section of Springfield and is a landmark building. The parish successfully petitioned the Springfield City Council to create a Local Historic District to preserve the parish buildings and also won an appeal to keep the church open.