Neglect, also referred to as "Demolition by Neglect," is the most insidious cancer on the urban landscape; it communicates a lack of appreciation and respect for those who built our City. The long process of neglect depresses the economy of the neighborhoods, makes citizens feel valueless like the buildings around them, and ultimately leads to the demolition of the buildings because they are "too expensive" to restore. Neglect also leads to the use of empty lots for the dumping of trash.
The large Colonial Revival style home was originally built on State Street and was later moved to Buckingham Street. It became vacant and then deteriorated. The City foreclosed for back taxes. After several attempts at finding a new owner, the home was demolished.
The Classical Revival four-story building was constructed to house the Ancient Order of Hibernians, an Irish social society. It was acquired in the 1980s by the Parking Authority to renovate for offices and cultural space, but was heavily damaged by fire and demolished.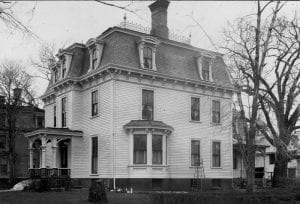 The pair of Second French Empire style homes was deteriorated by the 1980s. #57 was severely damaged by fire, nearly collapsed, and was demolished. Its twin survived in poor condition until the 2000s when it too was heavily damaged by fire and demolished.