The Historic Willys-Overland Building is located at 151-157 Chestnut Street and was built in 1916 for the Willys-Overland Motor Company. It has been on the National Register of Historic Places since 1983 for its connection to Springfield's early automotive history. It is an important part of a collection of significant historic buildings near Apremont Triangle that includes the old YMCA building, the Hotel Kimball, the Tarbell-Watters Building, and the McIntosh Building (which won an award for its restoration after damage from a gas explosion).
The building had been neglected for many years and then was damaged by the November 2012 Gas Explosion. The owner at the time applied for a demolition permit in January of 2015, and the nine-month demolition delay law was implemented giving the Springfield Historical Commission a chance to create a local historic district. The Springfield Historical Commission moved forward with the process to create a Local Historic District (LHD) for the building. The Willys-Overland Local Historic District was created by a 12-1 vote of the City Council on July 20, 2015, making it such that the exterior of the four-story industrial building at 151-155 Chestnut Street now cannot be altered without the approval of the Springfield Historical Commission.
Willys-Overland Building in 1939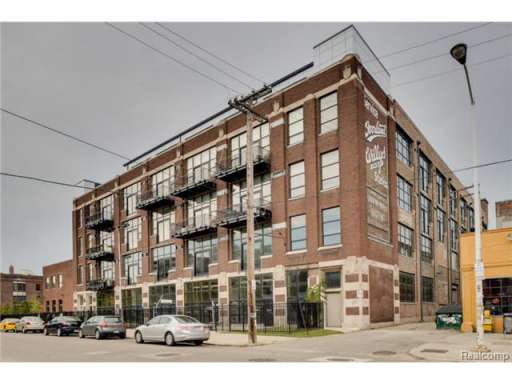 Willys-Overland Lofts in Detroit, Michigan
A planning study was done in the area after the gas blast and identified the Willys-Overland building as having potential for residential conversion and that the existing column grid and building depths work well for residential conversion. There is a twin building in Detroit that has been turned into residential units.
Davenport Advisors—a state-certified minority owned business based in Boston and Springfield and specializing in redevelopment of underutilized or abandoned historic buildings—renovated the building in 2019, in a $14.5 million development of 60 market-rate residential units with ground level retail space. They took advantage of State and Federal Historic Tax Credits to help finance the project. Today, the residential units are fully occupied. For its work in historic preservation excellence, Davenport Advisors received a Springfield Preservation Trust Preservation Award in 2021.